Law & Crime
A federal jury on Thursday convicted Marilyn Mosby, a progressive prosecutor and twice-elected Democrat, on two counts of perjury, crimes committed in 2020 while she served as Baltimore City State's Attorney.
When Mosby, now 42, was indicted in January 2022, prosecutors alleged that she lied on applications submitted to Nationwide in May and December 2020 as part of an effort to withdraw funds from her 457(b) Deferred Compensation Plan — her city retirement account — under the falsehood that she needed a total of $90,000, under the CARES Act, to offset "adverse financial consequences" brought on by the COVID-19 pandemic.
The indictment included four counts, two for perjury and two more for allegedly filing false mortgage applications. In its statement on the perjury convictions, the U.S. Department of Justice noted that the mortgage application charges are part of a separate pending federal case related to Mosby's Florida vacation homes in Kissimmee and Long Boat Key.
According to the indictment, Mosby had not, in fact, experienced the COVID-19 hardships needed to obtain the $90,000 from the retirement account.
Instead, Mosby's 2020 salary was $247,955.58, roughly $9,000 more than her gross pay the previous year.
"Trial evidence proved that Mosby falsely certified that she met at least one of the qualifications for a distribution as defined under the CARES Act, specifically, that she experienced adverse financial consequences from the Coronavirus as a result of being quarantined, furloughed, or laid off; having reduced work hours; being unable to work due to lack of childcare; or the closing or reduction of hours of a business she owned or operated," the DOJ said Thursday. "In signing the forms, Mosby 'affirm[ed] under penalties for perjury the statements and acknowledgments made in this request.'"
A Nov. 9 jury note on the court docket got straight to the point. It said: "We have reached a unanimous verdict."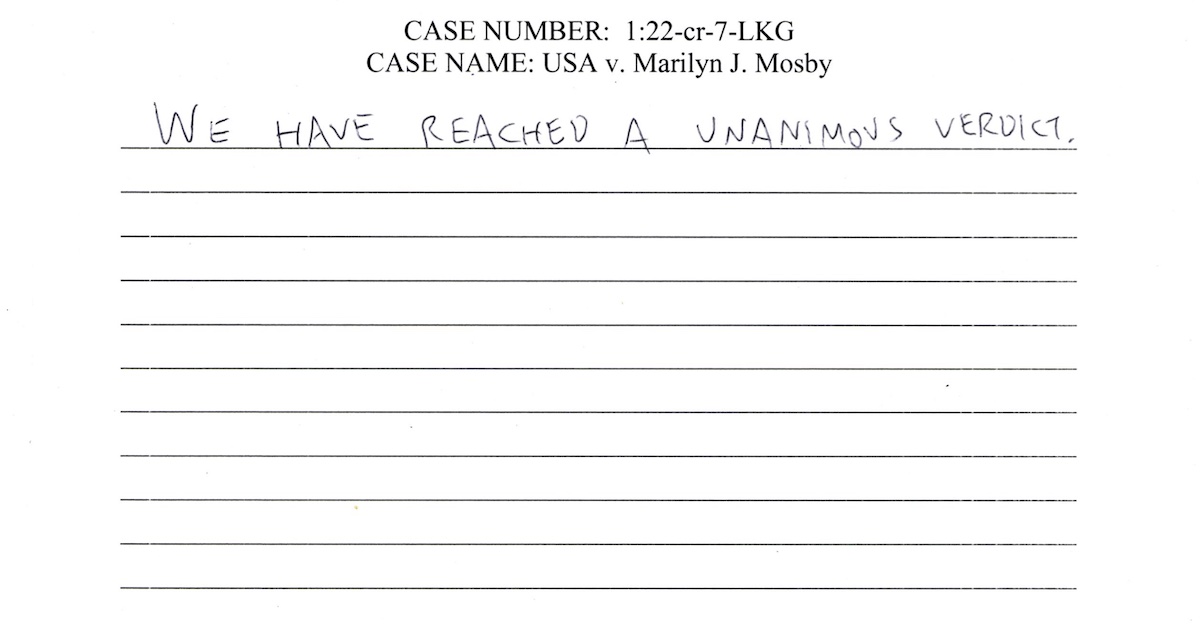 Mosby's verdict form showed two checkmarks indicating that she was guilty of perjuring herself in forms submitted to Nationwide.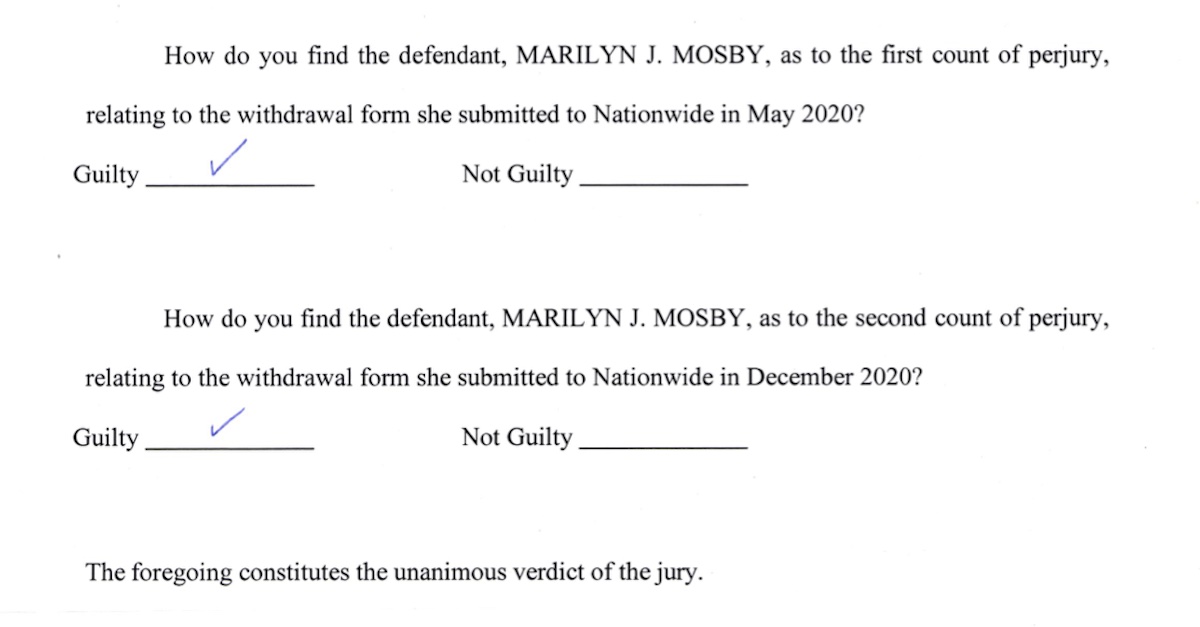 While the perjury charges are punishable by up to five years each, the pending mortgage application falsification charges are even more serious, as they are technically offenses that can lead to incarceration for up to three decades.
"Actual sentences for federal crimes are typically less than the maximum penalties," the DOJ noted.
Months after the indictment, the criminal justice reformer and progressive prosecutor lost in the July 2022 primary, ending her reelection bid for a third term.
In response to the indictment, Mosby said at a press conference in 2022 that she was "innocent of the charges that have been levied against [her]" and promised to "fight with every ounce of energy within [her] being to prove [her] innocence and to clear [her] name."
"I've done nothing wrong," Mosby added. "I did not defraud anyone to take my money from my retirement savings, and I did not lie on any mortgage application."
Source
Top Baltimore progressive prosecutor who insisted she did 'nothing wrong' and blamed federal indictment on 'political adversaries' is convicted of lying about COVID hardships