Good to see that the students haven't given up
NYU News
Law students from NYU and Columbia University demonstrated outside the Park Avenue headquarters of the data brokering company to demand that it end its contract with U.S. Immigration and Customs Enforcement.
Almost two dozen students from NYU's School of Law and Columbia Law School gathered outside the headquarters of LexisNexis on Friday to protest the data firm's contract with U.S. Immigration and Customs Enforcement. Protesters criticized ICE for its ability to use LexisNexis' data to circumnavigate sanctuary laws and identify and remove noncitizens, claims that it has denied. The agency has used the database more than a million times this past year.
"We will not put up with ICE," students chanted during the protest, carrying posters with "#EndTheContract" and "#NoTechForICE" written on them.
"We have been organizing with a coalition of law schools across the country — a couple of years ago, it was more than 20 law schools — to pressure LexisNexis to end its contract with ICE," Daad Sharfi, a third-year at NYU Law, said. "Today's action was part of that movement to get them to end that contract."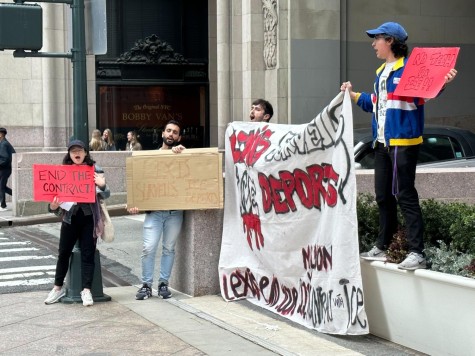 The protesters were members of the End the Contract Coalition, a group formed in summer 2021 by a group of students from NYU Law and other law schools. The coalition aims to call attention to the relationships between ICE and legal databases including LexisNexis and Westlaw.
These databases are frequently used by law students and lawyers to research court cases, but their respective parent companies, RELX and Thomson Reuters, also store the personal data of millions of people, including financial records, addresses, phone numbers and family information, and sell it to police and immigration authorities.
"LexisNexis supports the responsible use of data in accordance with governing statutes, regulations and industry best practices," Jennifer Richman, a spokesperson for LexisNexis, wrote to WSN. "As with our other customers, the Department of Homeland Security must use our services in compliance with these principles."
Sharfi said that the immigrants' rights organizations Just Futures Law and Mijente have provided legal and logistical support to the campaign.
"There's no reason for [ICE] to have a $22.1 million contract to facilitate surveillance and deportation of immigrant communities other than profiting," Sharfi said. "Even though we might seem like an inconsequential, small group of people, we're watching and we're willing to do whatever it takes to get them to hear us."
ICE, which operates under the U.S. Department of Homeland Security, has been criticized for forcibly separating children from their families and exposing them to diseases in immigration detention centers.
Rebecca Schectman, another third-year at the law school, said that other major corporations, such as Amazon, also have contracts with ICE.
"Not only are we wanting to call out Lexis, but we're wanting to call out any tech company that's collaborating with ICE," Schectman said. "We're trying to defund them from every single angle."
Source: https://nyunews.com/news/2023/04/11/law-students-protest-lexis-ice-contract/